FORD TRANSIT VAN
Just name the task and there's a Transit Van built for it.
Transit Van comes with a single row of seats to maximise your load space and up to a capacious L4 H3 format And with the new 5-Tonne model, you can up the carrying strength of your Transit Van to 2,457 kg.
Offering up to 15.1 cubic meters of secure cargo space. Plus a load floor length of up to 4,217 mm (in the L4 variant), the Transit LWB option is easily equipped for transporting lengthy items such as pipes, boards and carpet rolls.
While access to the load compartment is easy via the sliding side load door, or full-height rear doors and built-in rear bumper step.
And with a series of advanced connectivity features and assistance technologies at your fingertips, the Transit Panel Van cabin really is your office on the road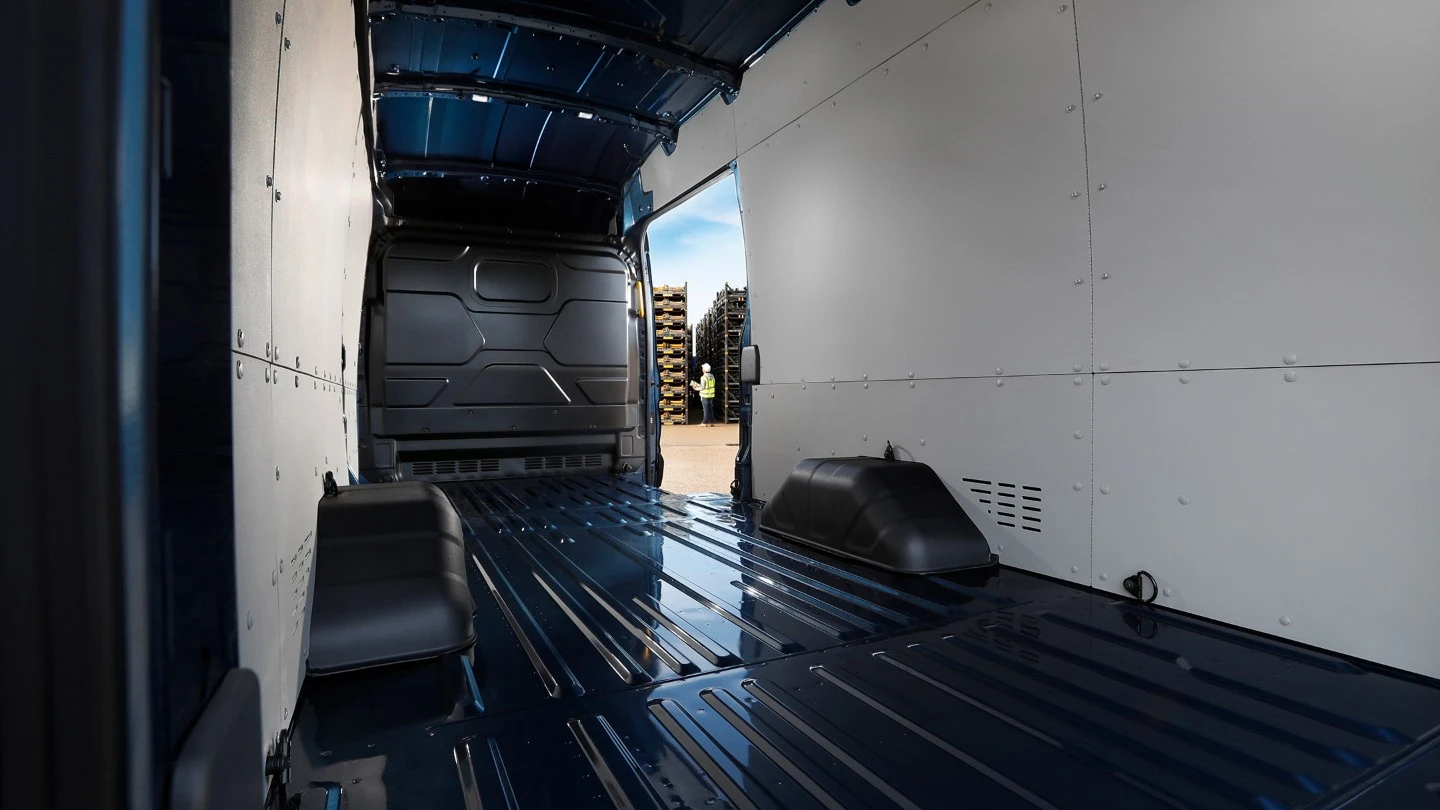 FEATURES
EXTRA STRENGTH WITH 5-TONNE
The new 5-Tonne GVM (Gross Vehicle Mass) variant brings the greatest payload capacity ever to the Transit Van, letting you efficiently carry a payload of 2,457 kg.
This extra strength makes the 5-Tonne an ideal candidate for heavy conversions. The Jumbo Van's larger wheelbase and body configuration (L4 H3) ensures you have the space, as well as the strength, to carry or convert. Delivering the ultimate versatility for whatever you need.
Tougher than ever. This new, ultra-strong Transit is ready to work
LOAD SPACE AND ACCESS
The Transit is a large van that provides impressive load space in all three dimensions: load length, width (from wheel arch to wheel arch) and usable interior height. With 15.1 cubic metres of load space, you can fit cargo over 3 metres long. And with a carrying capacity of up to 2.4 tonnes, you'll never be short of space or ability to transport almost anything. Wide side load doors, optimised opening height and a rear access step all ensure effortless access to your cargo too.
INTELLIGENT ALL-WHEEL DRIVE
Icy winter roads, muddy access tracks – wherever your business takes you, All-Wheel Drive (AWD) gives you the confidence to go there*. Intelligent All-Wheel Drive is a torque on demand system delivering surefooted progress over challenging surfaces. At the touch of a button or in response to driving conditions, AWD keeps you and your cargo squarely on the road. And for a weight gain of just -60kg, you get added versatility without sacrificing payload
RANGE OF ENGINES
Featuring a range of advanced 2.0-litre Ford EcoBlue diesel engines, the Transit Panel Van is more powerful and more efficient than ever. With four powertrains available, offering up to 170 PS of horsepower, you're guaranteed to find the one that meets your specific needs, making it ideal for heavier van conversions. That's a powerful large van.
MILD HYBRID
To help maximise efficiency, the Transit is now available as a mild hybrid van. A small battery-driven electric motor works with the conventional engine to help reduce fuel consumption, increasing the efficiency of your Transit Van when demand for power is low.
FORD ECOGUIDE
The innovative Ford EcoGuide system continually assesses the effects of your driving behaviour on your fuel consumption. The system analyses your speed, gear shifting, braking and anticipation levels, plus the number of short and long journeys your Transit Van makes. EcoGuide then feeds this information back to you via a display on the dashboard. The aim is to encourage you to drive more efficiently, reduce fuel consumption and save you money over the life of the van.
PRE-COLLISION ASSIST WITH PEDESTRIAN DETECTION
Pre-Collision assist with Pedestrian Detection uses radar and camera technology to scan the road ahead of your Transit Van. If a collision risk with a vehicle, pedestrian or cyclist is detected, it'll then provide you with a warning. If you don't respond in time, the system can automatically apply up to full braking force to help reduce the severity of, or even eliminate, some frontal collisions.