ACCESS ALL AREAS
You're free to explore. Ingenious SUV design. Next gen connectivity. Dynamic performance, plus mild hybrid efficiency. Ford Puma. Your backstage pass to the city.
EXPLORE FEATURES
CONNECTIVITY : Touchscreen or voice commands. For music, phone, or navigation control, SYNC 3 puts your world within reach.
LOADSPACE : Clever design. Practical functionality. Puma gives up to 456-litres of loadspace, including 80-Litres of additional Megabox storage.
PANORAMIC ROOF: Check out that skyline. An openable panoramic roof brings the outside in.
INTERIOR : Innovative 'human-centric' design. Plus smart tech, including selectable drive modes and digital instrument cluster.
CO-PILOT 360 : From crowded city streets to busy multi-lane highways. A host of Ford Puma driving features keep you in command.
KEYED IN
Intuitive tech built for city living. Mild hybrid efficiency. Smart compact SUV design. Cloud-connected navigation plus advanced route planning. 10-speaker B&O sound system. Ford Puma puts you in the zone.
FORD PUMA FEATURES
DRIVING EXPERIENCE
The Ford Puma has a range of innovative features designed to improve your driving pleasure. Such as Selectable Drive Modes and Ford Co-Pilot360, an impressive set of assistance technologies working together to help manage acceleration, braking, and even steering. These include Adaptive Cruise Control, Pre-Collision Assist, and Evasive Steering Assist, all keeping a watchful eye on the road ahead, alerting you to potential hazards.
YOUR PERSONAL DRIVING ASSISTANT
Ford Co-Pilot360 combines a range of technologies that, together, work to make your driving experience more comfortable and more enjoyable than ever. For example, Adaptive Cruise Control automatically adjusts your cruise control speed based on the vehicle ahead. The system can even recognise speed signs and adjust your cruise control speed accordingly.
A SMARTER CRUISE CONTROL
Adaptive Cruise Control adjusts your cruise control speed based on the vehicle ahead. Simply enter the desired speed and distance from the vehicle in front, and Adaptive Cruise Control will automatically maintain the set distance if traffic conditions do not allow travel at the desired cruising speed.
MORE RESPONSIVE STEERING IN EMERGENCIES
Emergency Steering Assist helps you steer around stopped or slower vehicles to avoid collisions. The system uses radar and a camera to detect slower-moving and stationary vehicles ahead, and provides steering support to help you avoid a vehicle if a collision is imminent. The technology activates if there's insufficient space to avoid a collision by braking and you initiate evasive action.
DRIVING DYNAMICS TAILORED TO YOU
Personalise your driving experience using Selectable Drive Modes by altering the Puma's throttle response, steering, and even gear-change behaviour to match your driving style. There are five different modes including Normal, ECO, Sport, Slippery and Trail. Key information displayed via the 12.3" digital instrument cluster changes between unique colour themes according to which drive mode you have selected.
HELPING YOU MOVE IN THE RIGHT DIRECTION
Wrong Way Alert uses a forward-facing camera and information from the navigation system to detect if you're driving against the direction of traffic. The system delivers visual and audible warnings if you drive the wrong way so that you can stop and take the necessary action.
MAKES PARKING EASY…
Bollards, bicycles, low walls… The rear-view camera shows what's behind you on a screen built into the centre console. As well as revealing objects you might miss, the system displays virtual lines to help you park into the smallest of spaces. The camera activates automatically when you select reverse gear.
…OR JUST LET PUMA DO THE PARKING
Parking in a busy street or a tight space can be tricky. But with Active Park Assist, the Ford Puma makes it easier than you'd ever believe possible. Once activated, the system can identify a suitable parking space, and then automatically steer you in. It can manoeuvre you out of spaces too. All you need to do is operate the accelerator, brake and gears.
HEADLIGHTS THAT HELP YOU SEE AROUND BENDS
Puma's LED headlights deliver a precise and intensely bright light beam pattern. These also include unique, signature design LED daytime running lights, as well as static cornering lights to illuminate the inside of a corner when you turn the steering wheel beyond 30 degrees.
AN EXTRA PAIR OF EYES
The Blind Spot Information System uses RADAR sensors to see vehicles that may be hidden in your blind spot. They're situated on either side of your Puma and alert you with an orange light, clearly displayed in the side door mirror.
HELPING YOU SEE, WITHOUT DAZZLING OTHERS
A useful night-driving aid, Auto High Beam temporarily dips your headlights when it detects oncoming traffic or a vehicle ahead, stopping you dazzling other drivers. It then automatically reverts back to high beam, giving you maximum visibility.
SENSORS THAT TAKE THE STRESS OUT OF PARKING
Parking distance sensors help you judge the distance between your vehicle and obstacles around you. When the sensors detect an object, they activate an audible warning that intensifies the closer you get to it.
TECHNOLOGY THAT TELLS YOU WHEN YOU'RE GETTING TIRED
Driver Alert constantly monitors your driving behaviour and is designed to detect any changes that could be caused by fatigue. If the system identifies you're becoming less vigilant, a warning icon appears in the display, suggesting you take a break. If your driving alertness further declines, the message is repeated and combined with a chime.
A STEP FORWARD
A new age of cleaner hybrid electric vehicles is here. Ford Puma offers a choice of advanced new EcoBoost Hybrid options. Delivering impressive fuel economy and noticeably lower CO2 emissions than other non-hybrid engines, and all with no compromise to its outstanding, fun to drive performance. In a further step, the EcoBoost Hybrid Powershift option is an advanced seven-speed automatic dual clutch transmission (DCT) which offers a smooth, seamless, less demanding drive particularly in stop-start city traffic.
WHAT IS HYBRID?
Puma's EcoBoost Hybrid technology incorporates a small electric motor with a 48 volt battery to help improve efficiency. The self-charging mild hybrid cannot be driven solely on electric power; instead the electric motor provides additional support to the petrol engine when needed, helping both to increase your vehicle mileage, and reduce emission figures. There's no need to connect Puma to an external power source, as the separate 48 volt battery pack which powers the electric motor is recharged while you drive. Regenerative braking works by redirecting energy from the brakes and back into the mild hybrid battery.
AWARD-WINNING PERFORMANCE
Clean doesn't have to mean compromised. The 1.0-litre Ford EcoBoost petrol engine is a six-time winner at the International Engine of the Year awards. And no wonder. Available on Puma with a choice of 125 PS or 155 PS hybrid options, you'll enjoy all the uncompromised performance you'd expect from a conventional 1.5-litre engine, but with round better fuel economy and lower CO2 emissions – making it not only cleaner for the environment, but also kinder on your running costs!
SOPHISTICATED AUTOMATIC TECHNOLOGY
The Puma is now available with EcoBoost Hybrid Powershift, a seven-speed automatic dual-clutch transmission (DCT) option for the 125 PS and 155 PS 1.0-litre EcoBoost Hybrid engines. The greater number of gear ratios, low-weight design, and advanced dual-clutch operation all work to deliver smooth, seamless gear changes for a less demanding drive in stop-start city traffic. Along with outstanding fuel efficiency and fun-to-drive performance – with the 1.0-litre 155 PS version capable of 0-100 km/h in just 8.7 seconds.
A 6-SPEED MANUAL TRANSMISSION
The 6-speed manual transmission in the Puma has been optimised to make gear selection easier, more precise and quieter. It has been specially engineered to improve driving dynamics and reduce fuel consumption, too, helping to make your drive more exhilarating whilst reducing trips to the petrol station.
USE LESS FUEL WITH AUTO START-STOP
When you stop at traffic lights or your vehicle is idling in a queue, this technology can automatically switch off the engine (while still supplying power to essentials like the headlights, air-conditioning, radio and the Ford SYNC system). When you're ready to move, just depress the clutch and select first gear as usual, or release the brake on an automatic, and the system restarts. Auto Start-Stop is particularly effective in town and city streets, where it can really help cut fuel consumption.
COMFORT & CONVENIENCE
Not only great to look at, but clever too. The Ford Puma cabin wraps you in stylish design and leather-trimmed refinement. Front seats include lumbar support and massage function for added levels of comfort. And bright-finish interior detailing elevates the feeling of sophisticated style. While a host of clever features and innovative technologies puts you in complete control. From the 12.3" digital instrument display cluster, and advanced 8" touchscreen display, to a host of additional services and features available through your SYNC 3 infotainment system and FordPass Connect embedded modem – every element has been designed to make your drive as effortlessly enjoyable as possible..
THE KEY TO A MORE CONNECTED WORLD
Ford Puma is available with FordPass Connect modem . The system provides a range of invaluable benefits, including up to 4G LTE WiFi for up to ten devices, and real-time trafficFordPass with Live Traffic updates delivered straight to your in-car satnav. A brand new feature is Local Hazard information. Displayed as warning symbols in your instrument cluster, this advises you of any obstacle you may be approaching, In the event of an accident, FordPass Connect will even place an eCall to the emergency services providing your vehicle's location.
UNLOCK THE SMART SIDE
The FordPass app seamlessly connects you with your new Puma, keeping you moving in intelligent, intuitive ways. Get remote access to your vehicle wherever you are, track its location and even lock it remotely for added peace of mind. Real time traffic updates delivered to your vehicle's navigation system help you to avoid delays. And with Vehicle Health Alerts sent straight to your phone, you'll immediately know about any issues, so you can handle maintenance quickly with all the information you need.
DISPLAY YOUR PREFERENCE
A unique focal point to the Puma interior is the new digital instrument cluster. This clever 12.3" colour LCD display uses free-flowing technology, allowing the screen to curve with the vehicle facia for a more seamlessly flowing interior. Information is displayed in high definition using intuitive and easy to read icons, and changes colour and configuration to suit to the drive mode you have selected. You can also prioritise which information is displayed, including navigation alerts, as well as programme the preferred pre-sets of individual drivers.
GO HANDS-FREE WITH SYNC 3
Ford SYNC 3 helps you to stay connected. Control your phone, music and navigation with natural voice commands. With over-the-air map updates and Live Traffic information, your route will auto-adjust based on the road ahead, helping you to arrive more relaxed and on time. The 8" colour touchscreen uses pinch-and-swipe gestures for intuitive control, and connection to Apple CarPlay and Android Auto. Plus, with AppLink, you can access some of your favourite smartphone apps.
ADJUST YOUR SOUNDTRACK
Puma's tailor-made sound system from B&O delivers premium design with superior sound quality. The advanced 10-speaker, 575-watt setup has been specially fine-tuned for Puma by specialist B&O sound engineers, so you can experience your music the way the artist intended. You can adjust the music sounds to suit your specific mood, by selecting between four different audio emotional 'spaces' in the display screen. Choose relaxed, energetic, warm or bright to suit your mood.
LUMBAR MASSAGE SEATS
The Ford Puma's driver and front passenger seats are enhanced by a lumbar massage function for additional comfort and support. Activated at the push of a button, the 3-way adjustable massage settings revitalise tired muscles – ideal for longer journeys.
SPILLED DRINKS? MUDDY PAWS? NO PROBLEM.
Life in the city can be hectic. Drinks can be spilled; mud and dirt can be brought in with wet feet. And you're not one to get too hung up on how spotless your car is. That's why we've created new seat designs for your Puma, incorporating fully removable seat covers front and rear. The seat covers are machine washable too, and feature an integrated zipper, making them easier to remove when required. Or if you just feel like a change, you can simply switch to a different zipper seat cover design from our range.
LET IN SOME SUNSHINE
The Puma is available with a full-length panoramic roof that completely replaces the steel roof panel. This lets natural light flood into the car to create a light and airy interior. The front half is power-operated and can tilt or slide right back, and a full-length, retractable sunshade lets you open the glass to get some fresh air while staying protected from the sun.
GET THE WARMTH JUST RIGHT
Heated front seats are available for both driver and passenger. And for your comfort, you can choose from three different heat settings for each seat. A heated steering wheel is also designed to keep your hands warm on a frosty morning, chilly day, or freezing cold night. And, with the FordPass app, you can get your Puma warmed and ready before you've even left the house. Just start the engine remotely, to make sure the windscreen is de-iced and ready to go when you are.
AVOID GETTING YOUR WING MIRRORS CLIPPED
To avoid accidental damage, power-foldable mirrors fold inwards when you're parked (on Titanium and ST-Line). Tucked back, they also protect the stylish integrated indicators. They're heated, too, which means quicker getaways on frosty mornings.
WIPERS THAT AUTOMATICALLY ADJUST TO THE RAIN
Rain-sensing wipers spring into action when they detect moisture on your windscreen, then adjust their speed to deal with whatever the weather throws at you. You can even choose from several sensitivity levels that determine how much moisture can build up before the wipers activate.
SET A TEMPERATURE TO SUIT YOU
With Electronic Automatic Temperature Control, you just select the exact interior temperature you like and the system maintains it with advanced air conditioning. With a new, three-stage Auto setting, you control how quickly and intensely your car heats or cools.
WORRY-FREE SHARING WITH MYKEY
MyKey lets you set the maximum speed limit, a seatbelt reminder and even the volume of the audio system, among many other settings. The technology is designed to give you peace of mind if you lend your vehicle to a friend or family member, because you can programme the restrictions you want to set for that key. You can keep the unrestricted 'admin' key yourself and even have more than one of both if you want.
KEY-FREE MEANS HASSLE-FREE
The Ford KeyFree System lets you lock and unlock your vehicle, without having to take your key out of your pocket or bag. You can also open the door if the key is inside the car, or use the FordPass app to remotely lock and unlock from anywhere.
START YOUR VEHICLE WITH THE PRESS OF A BUTTON
Puma automatically senses the presence of its own unique key fob, even if it's in your pocket or bag. So just press the Ford Power starter button and the engine fires into life.
CLEAR YOUR WINDSCREEN QUICKLY, WITH QUICKCLEAR
This clever feature is designed to get you on the move quickly on frosty mornings. Just touch a button and ultra-thin filaments can superheat to de-ice, de-fog and de-mist your windscreen as well as help defrost the wipers.
SAFETY & SECURITY
From alerting you to potential collision hazards, to clever systems that help you to maintain traction and stability: your safety is our concern. That's why the Ford Puma comes loaded with clever assistance technologies, all designed to help keep you, your family and other road users protected.
A SYSTEM THAT CAN HELP PROTECT PEDESTRIANS
Pre-Collision Assist with Pedestrian Detection uses camera technology to scan the road ahead. If a collision risk with a vehicle, pedestrian or cyclist is detected, it'll then provide you with a warning. If you don't respond in time, the system can automatically apply up to full braking force to help reduce the severity of, or even eliminate, some frontal collisions.
MAXIMISES BRAKING IN AN EMERGENCY
Emergency Brake Assist is designed to recognise an emergency braking situation and optimise the pressure within the braking system to provide maximum stopping power.
AN EARLY WARNING IF A TYRE IS GOING FLAT
If it detects any of your tyres starting to lose pressure during your journey, the Tyre Pressure Monitoring System warns you by lighting up an icon on the instrument panel. You can also get alerts delivered straight to your phone via the FordPass app, monitoring tyre pressure, washer fluid and lots more.
KEEPS YOU IN CONTROL
Electronic Stability Control constantly monitors your vehicle's progress. Using advanced sensors from the anti-lock braking and Traction Control System, it can detect when a vehicle is losing grip and automatically apply a braking pulse to individual wheels to help stabilise it.
MAXIMUM GRIP WITH MINIMUM EFFORT
An advanced Traction Control System eliminates excessive wheelspin and gives you the best possible grip, performance and stability, just when you need it most. The system constantly monitors and adjusts the power delivered to the vehicle's individual wheels ensuring maximum contact and grip when you're accelerating.
NEVER FORGET TO WEAR YOUR SEATBELT
A driver and front passenger seatbelt minder warns you if you ever forget to 'buckle up'.
AIRBAGS TO SHIELD YOU FROM ALL ANGLES
In addition to the driver and passenger front airbags, side airbags provide thorax protection and are designed to direct the occupant away from the impact area. They're also able to raise the arm of the occupant providing better space between them and the intruding structure. Curtain airbags provide maximum coverage and headrests offer protection from whiplash.
HELPING TO KEEP CHILDREN SAFE
The Puma is designed to help keep young children safe and secure on every journey. It comes with rear ISOFIX child seat attachment points, so you can easily fit two child seats.
PROTECTING AND SECURING YOUR PUMA FROM THIEVES
A Thatcham Category 1 alarm is a sophisticated system that automatically arms itself when you double-lock your Puma. It will sound a powerful alarm if triggered by forced entry, the car being lifted, or if the motion sensors pick up any movement inside. Plus, the technology is designed to help prevent unwanted towing of your Puma. With the FordPass App, you can receive a notification if your car's alarm is activated, no matter where you are. And SecuriAlert will send a notification to your smartphone if it detects unauthorised access attempts – even with a stolen or duplicate key.
UTILITY
Modern living often requires an inventive approach to how you occupy space. With best-in-class uncompromised rear load space capacity, the Ford Puma embraces this way of thinking thanks to the innovative MegaBox providing an extra 80-Litres of storage space.
Aside from stylish flair and commanding presence, Puma's beautifully-sculpted exterior is balanced with thoughtful functionality. Delivering real versatility within the details of its design.
NOW THAT'S NEAT!
The Puma loadspace incorporates an innovative new MegaBox lower load compartment. Not only providing an extra 80-Litres of storage space, and able to house items up to 115 cm tall if needed, the MegaBox also features a waterproof lining and drain plug, making it easy to clean with water and the ideal space for storing wet boots or muddy sports gear.
ALL THE SPACE YOU NEED
Whatever series option you choose, Ford Puma is gives you all the storage space you need. The rear seats can be split 60/40 to maximise versatility, and can even fold flat to give you more luggage space when you need it.
ADAPTIVE PARCEL SHELF
Ford Puma features an adaptive rear parcel shelf which is not fixed to the second row of seats and raises with the tailgate, meaning that it can adjust its position to allow room for larger storage items.
NO MORE RUMMAGING AROUND FOR YOUR KEYS
Hands-free tailgate makes access to your Puma load compartment is easy, even when your hands are full. With your KeyFree key fob in your pocket or bag, simply use a gentle foot movement under the centre of the rear bumper and the hands-free tailgate will operate without you having to touch a thing. It can also be opened and closed while sitting inside the car.
NEED TO CARRY EVEN MORE?
If you do need to carry bigger or bulkier items, you can take the option of roof rails and/or a useful removable tow bar.
NEW FORD PUMA ST
Available to order from October 2020 and arrives January 2021
Introducing the next generation of Ford Performance. The New Ford Puma ST is our first ever performance SUV in Europe, created with the signature fun-to-drive DNA of the Ford ST range.
A turbocharged 1.5-litre Ford EcoBoost engine delivers an impressive 200 PS with 320 Nm of torque. The Puma ST is capable of 0-100 km/h in just 6.7 seconds. Combining the everyday practicality of an urban SUV, with the ultimate exhilaration of a Ford Performance vehicle.
With four selectable drive modes, sports-tuned suspension, aggressively sculpted aerodynamic design, impressive 19" alloy wheels, and signature ST styling – this is a Ford Puma built for the thrill of the drive.
MUSIC, AS IT'S MEANT TO BE HEARD
Whatever your taste in music, it deserves to sound as the artist intended. That's exactly what you can expect from the new Ford Puma. Why? Because it's available with B&O. A premium level 575-watt audio system has been designed and fine-tuned for Puma by specialist B&O sound engineers. This rich, powerful 10-speaker set-up includes a subwoofer cleverly incorporated within the rear bulkhead, so that none of the Puma loadspace is compromised. So, turn it up and enjoy your favourite bands and songs in the concert hall that is your car's cabin.
GO HANDS-FREE WITH SYNC 3
Ford SYNC 3 is a state-of-the-art system that enables you to stay connected and control your phone, music and navigation system with natural voice commands. You can even call up a list of local restaurants just by saying "I'm hungry". It can read out your text messages too. The colour touchscreen features pinch-and-swipe gestures for intuitive navigation. SYNC 3 also connects to Apple CarPlay and Android Auto, and with AppLink, you can access some of your favourite smartphone apps.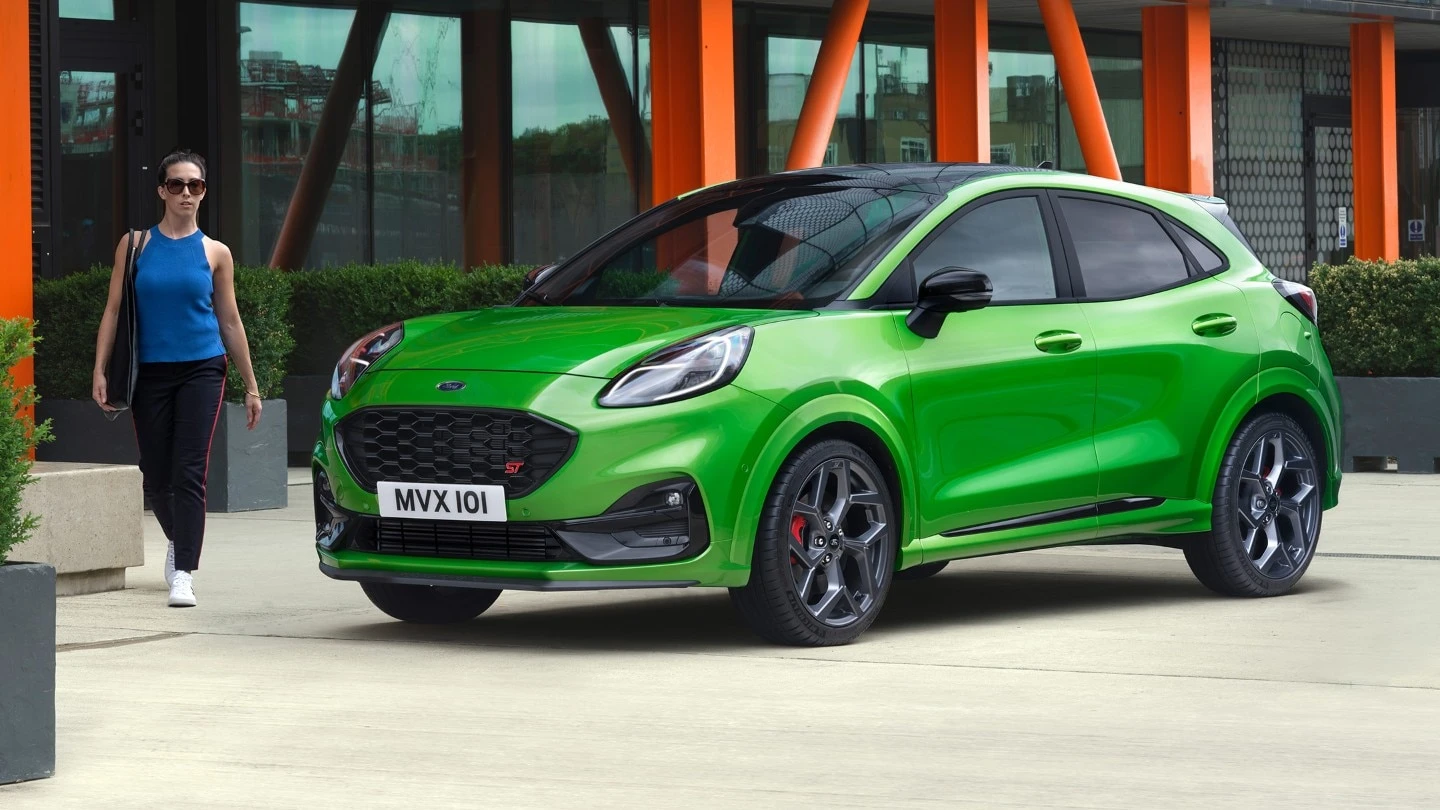 See it in action