FORD RANGER DOUBLE CAB
With its spacious second row seating, Ford Ranger Double Cab gets you and your crew to site with all the comfort of an exceptional passenger vehicle.
It must be why Ford Ranger continues to be Europe's best-selling pick-up!
A formidable range of engine options; delivering an exceptional 1-tonne load-carrying ability, up to 3,500 kg of towing capacity; and with rugged off-road agility. The All New Ranger Double Cab makes your work life more comfortable and leisure time significantly more fun.
KEY FEATURES
REAR PASSENGER COMFORT.
The Ford Ranger Double Cab interior delivers all the comforts of a premium passenger vehicle. And with its spacious second row of seats, there's plenty of room for family road trips once the work is done!
CONNECTIVITY
From enhanced voice control, navigation, and smartphone connectivity – to onboard device charging or the ability to provide power for your electric tools. Ranger delivers an impressive array of state-of-the-art connectivity and assistance technologies.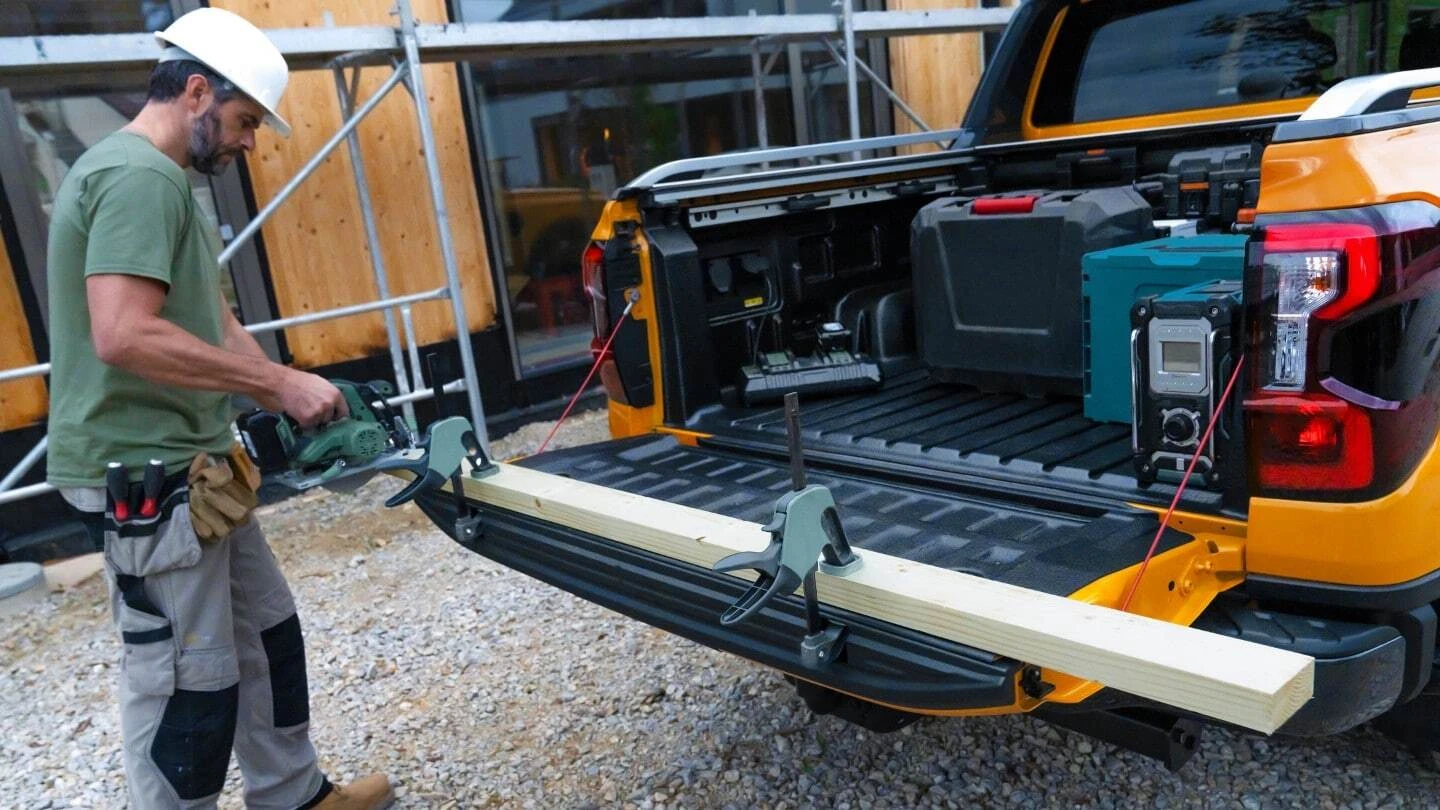 POWERTRAIN
Ranger's new turbocharged EcoBlue 2.0-litre Diesel engine delivers 170 PS and 405 Nm of torque, or 205 PS and 500 Nm as a Bi-turbo. There's even a 3.0L EcoBlue V6 diesel that delivers an impressive 240PS and 600 Nm of torque. Together with its advanced four-wheel drive system, the Double Cab gets the job done.
LOAD BED & TAILGATE
Ranger Double Cab provides an impressive 1233 Litres of load space volume. Whist sturdy, DIN compliant tie-downs help you to carry cargo safely. The tailgate doubles-up as a work bench too. Featuring built-in clamp pockets, cupholders, and even a bottle opener!
ZONE LIGHTING & 360 CAMERA
Access exterior zonal lighting via the SYNC screen, or remotely through the FordPass App, to illuminate individual areas surrounding your Ranger. A 360-Degree Camera can display a birds-eye view of your Ranger too, which can be handy when manoeuvring round tricky obstacles.